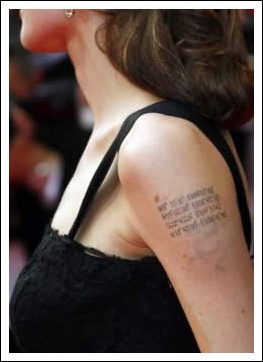 Angelina Jolie Might Still Have Billy Bob Tattoos..................
It's old news that super star and mother of six adorable children, Angelina Jolie is a fan of tattoos. It's also old news that she got a tattoo of ex-husband Billy Bob Thorton's name removed from her upper arm along with a dragon, soon after they divorced. Well there hasn't been confirmation about this but for the first time a tattoo artist is confirming that Angelina Jolie got Billy Bob's name not only tattooed on her arm but also on her bikini area. The artist insisted that she tried to talk Angie out of getting Billy Bob's name tattooed in this very private area, but she reveals after Angie begging her for two or three weeks she just gave in.
We all know now that Angelina wanted to erase that memory from her life otherwise she wouldn't have gotten his name removed from her arm. So it makes one wonder if she got the other intimate tattoo removed and replaced with Brad's name. Angelina has admitted that she has a private tattoo that represents her lover and father of her six children, Brad Pitt. Brad also reciprocated this gesture by getting Angelina's birthday tattooed on his stomach.
Just as we all look up to these celebrities we should also take this as a lesson learned. Even though Angelina is a huge A-list star she has made several tattoo mistakes. Even her tattoo artist advised against the tattoo. So next time you are thinking, hey it would be awesome to have my boyfriend or husband's name tattooed on me, think back to Angelina Jolie or even mega heart throb Johnny Depp. Everyone is well aware of his Wino Forever tattoo, which originally said Winona Forever. It's just best not to do it.
Source:http://ezinearticles.com