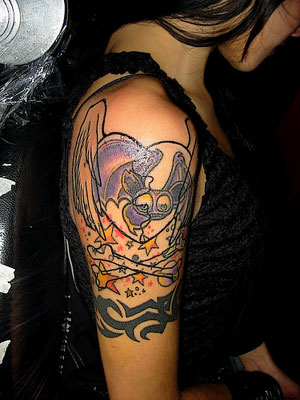 If you are looking for ideas for your first or a new tattoo, you need to know what design you want as much as you know that you want a tattoo. Besides, getting great tattoo artist the design of the tattoo is very important as well. Keep in mind you need to live with that design for the rest of your life. Believe me, the last thing you want to do is choose a design from the flash book just before getting work done. Here's why.
When I got my first tattoo in the early 90s, I was 21 years old. I wasn't thinking too clearly and looked at the most five minutes into the future. So when it came time to get my tattoo, I didn't know what to get. I scrambling through the books to see what the tattoo design I liked. However, I didn't like anything. Also, I was putting pressure on myself, because I felt like everyone was waiting for me, my friends, the other customers and most importantly the tattoo artist.
However, when it came down to it I made the luckiest decision in my life. Fortunately, I was wearing my baseball cap, and I decided to get the logo of my favorite baseball team tattooed onto my shoulder. Even though this wasn't the best situation for me to be in, I still have a tattoo today and still enjoy showing it off very much. However, I realized how important is to prepare the next time I get a tattoo. That's exactly what I did. Here are some tips to help you find the right tattoo design to avoid being the same situation I was.
Don't be impulsive when it comes to getting a tattoo. You may wind up regretting it. Take your time looking for a tattoo artist and looking for a tattoo design. After you find an artist you should be looking through thousands of designs, because there are many to choose from such as tribal tattoos, sports team logos, or even animals such as butterflies and dolphins.
A tattoo design is a very personal choice and you should get a design that is very meaningful for you. After all, the tattoo will be there for the rest of your life. So you need to make a decision that will make you the happiest. Furthermore when you narrow it down to a few designs, you may want to test them out by asking of your friends opinions. They should be able to provide good feedback.
Finally, I like to add that researching a design for your tattoo should be fun and should not be looked at as a daunting task or something that you "have to do." If you do feel that way, you may not have thought it through. You may want to rethink if you wanted tattoo or not. Otherwise, have a great time researching tattoo design ideas and getting the tattoo you always wanted.