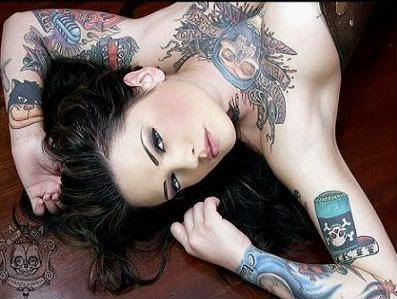 My first tattoo was in 1990 in South Wales when I had one done on my buttock. Putting on the buttock was the easiest way of keeping it covered and keeping a job, which was a priority for me. My buttock tattoo had been fine but getting it was quite painful. It felt like the tattooist was drilling into my buttock, not tattooing it. Eight years on, I decided to get another tattoo but I wanted something else and I wanted a different artist.
Several well tattooed friends recommended D T Fleet in Blackwood. He had done work on them and the results were very pleasant. They advised me to try him, although he operated an appointment system and the wait was three months, roughly. As an award winning tattooist it seemed that he was very much in demand but I had plenty of time between sorting the appointment out and settling on the image I wanted.
In March I went along to the studio and explained, with book illustation, what I wanted. Dave's receptionist was very good and put me in for June of the same year. I was a bit nervous about giving my phone number out as we lived with my husband's elderly parent at the time and she didn't know that I wanted another tattoo done!
Well, I went along in June with illustration in hand and very nervous. It was a very wet day and the trip to the studio was unpleasant. My last experience had been painful and I was apprehensive about having the tattoo done. We arrived on time (early in the morning). Dave had already opened the studio. Whilst he busied himself with needles and photocopying, we had a quick look around the studio, which was quite small. He was polite enough and drew out what I wanted. When the design was put on my skin for the first time, I had to ask him to lower it as I did not want the tattoo visible under lower necklines. He was very professional about it and put it in a place acceptable to me.
The tattooing process was fine. It certainly did not hurt as much as my last effort had. I flinched slightly when he got to problem bits like shading and it took longer than I expected but I was okay about it. As I was being tattoed, Dave's daughter and receptionist wandered in, cleaning the floor and making sure that things were spotless. The studio itself was quite small and when a young couple came in for piercing I got some very pitiful looks (which did not matter as it was not as painful as it must have looked to them). My husband, who had wandered off to get cigarettes, seemed okay, if a little uncomfortable with the whole process, but then he wasn't the one getting inked!
The job was finally finished about an hour after I had arrived and Dave began to put Preparation H on the tattoo. When I asked why, he said that it was to ensure that the colour stayed put. He finally put a dressing over the wound and we headed home.
I have had no problems with my tattoo since having it done a year ago. It has healed very well and none of the colour had come out. I have no hesitation in recommending Dave to others in the South Wales area. He is polite and quiet, does not make any sexist jokes or rude remarks and is, above all, very clean. I don't know what other experiences other people have had with tattooists but one way of judging is the treatment you get when you walk into the studio for the first time. If everyone is friendly and doesn't pressure you then it makes a big difference.
I have been to a few studios to see what they are like. One, I know, seemed to treat the whole business of tattooing like some peep show with men playing pool whilst the tattooing process took place. This can be very difficult if you are a woman and am having some intimate part of your body tattooed (or pierced)! My tip for anyone getting pieerced or tattooed is to check out the studio beforehand and talk to anyone who has been there and how their tattoos or piercings have healed. It is also worthwhile making sure that the place has an appointment system and how long the wait is. If it's a long wait that is usually the mark of a good tattooist/piercer. That he/she is very much in demand.
I am presently considering another tattoo but am unsure what I want. I am also considering getting another piercing but my experiences of having my ears pierced haven't been very good.

Source : http://www.bmeink.com/991003/tatgoodt.html